Hello Friends,
It's been a loooonnnggg time since I have posted a fasting challenge!  I have not stopped
my personal challenges but I am so glad to post this new post.  This is a spin-off of my original "Skip A Meal Challenge."  This is the 4th official challenge, you can click the "The Fast I Have Chosen Series on the Right—> to view previous challenges.  I love the concept of this challenge because it gives us an opportunity to live out "The Fast That God Has Chosen" according to the scriptures in Isaiah 58:6-7.
As you know, this site is dedicated to living out Isaiah 58, although of late, the messages have been slanted towards the sharing of the Good News.  The idea for the challenge came after I prayed to God for a way to  personally give back and this is the idea He gave me.  The great thing about this challenge, is that it will not take away from the normal amount you give to your church in tithes and offerings.  I will discuss the overall concept for those who are not familiar and then discuss Chocolate Babies!
How it works!  Well first, according to the scriptures in Isaiah 58, there is a Fast that God Has Chosen!  It's important to look at the biblical context for fasting.  It involves
prayer and giving, otherwise we would just be dieting lol!   He says, that when we fast, we should be doing an extra-little something more than just turning down a plate.  He told me, "if you give up a meal, someone else should benefit by gaining a meal.  That is true loss."  Otherwise I would just eat twice as much the next day!!  Only loss will balance the scales of injustice.
The Kind of  Fast that God Has Chosen should somehow untie the bond of injustice, so that those of us have more can give to those who go the day with no meal at all.  This is a brave and startling reality!  Children literally starve to death daily.  Again, the great thing about this fast is that it will cost you something, but it also does not take away from your regular church tithe. You literally turn down a meal or other specified item so that someone else can benefit.  Of course, you can ask God for specific ways that you can live out that Fast That He Has Chosen specifically for YOU.  This is just a suggestion, and there are many other ways to help the poor when you fast.  Remember, scripture does say "When you fast…"  It didn't say "If you fast…" so I believe fasting is something God has called us to do.  There are many kinds of fasts, I like to mostly to the half day fast periodically during the month.  God likes to reward us for any and everything we do…He loves to give credit…He says when you fast you will be rewarded.  He just doesn't say what kind of  it will be though.
So what is the Chocolate Babies Challenge?  Unlike the half-day fast, we will be COMPLETELY giving up chocolate for 21 days.  It's similar to the Daniel Fast, where for 21 days, challengers generally give up all good-tasting food.  How does it relate to Chocolate Babies?   Well "Chocolate Babies" is the term that is being industrially circulated about children who are forced into labor for the chocolate manufacturing companies.  Who are the biggest consumers of the chocolate?…Western Countries of course…with Switzerland being one of the biggest consumers.
Unfortunately, many U.S. chocolate companies like Nestle have investigated their chocolate sources and have found that child slave labor is a large contributor to U.S. chocolate production as well.  I know!  Startling!  I posted a challenge about  consumption of Beef in the U.S. in my previous challenge.  It's startling to think that U.S. consumption of products DIRECTLY affects the poor.  I have since cut down on my consumption of Beef  in order to do my part, and unfortunately I see that I will have to do the same with my beloved chocolate.  In the spirit of Isaiah 58, we all should do our part not to over-indulge on entities that are built on exploitation individuals.  So for you chocolate-over-indulgers…we should be mindful and do our best to cut back or only buy Fair Trade Brands (will discuss).
So, some facts and figures ( because education is the first step towards correcting injustice).   Ghana and Cote D'Ivoire (Ivory Coast) supply up to 70% of the worlds chocolate!  Yes 70%!  According to the US Department of state, 600,000 people are enrolled in slave labor, of which 70% are female.  About 50% or, 300,000 of those who are slaves in the chocolate industry are children. Of course, they receive no pay in return for their labor. What's worst, is that these children are exposed to dangerous pesticides which they use to treat the cocoa trees.  Also, working for the companies ensure that these children are denied access to daily education. They have no lives, and no future!  Of course, abuse is also a factor.  What complicates this issue is I am unsure whether totally abandoning the support of chocolate companies is beneficial, as many African Families DEPEND on their chocolate farms for income.  But for U.S. companies…Hershey is the biggest producer of chocolate, and has been elusive for many years about chocolate sources…in the past they have adamantly refused to expose what their sources were, although it had been exposed that their chocolate came from…of course, West Africa.  Through the Hersey, Raise the Bar Initiative…many activists have pressured the company into fair practices.  They have still not gone Fair Trade, after YEARS of heat on the child slavery issue, last month they announced that by 2020, their company will initiate programs to reduce Child Labor.  I guess I won't be enjoying Hershey chocolate until 2020! [ http://www.thehersheycompany.com/newsroom/news-release.aspx?id=1741328%5D.  Info about some steps they have taken earlier in 2012: http://www.globalexchange.org/blogs/fairtrade/2012/02/01/is-hersheys-going-fair-trade-did-we-really-win-not-yet/.   Other companies are implicated as well, M&M, Kraft, Godiva, Lindt, etc.
Here is a list of Fair-Trade Brands of chocolate from which you can enjoy forc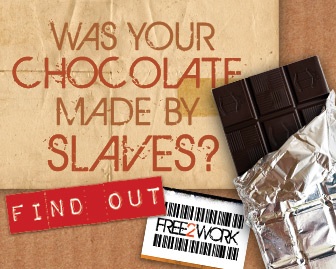 ed-labor free chocolate!  Don't worry…some of these brands are available at your local grocery store or Whole Foods. #Divine Chocolate. #Equal Exchange.  You can also donate to that site if you chose to do the challenge and save a few $ or many $ you would have spent on chocolate: Here: http://www.fairtradeusa.org/products-partners/cocoa?gclid=CO2Y2ePPvbMCFYZM4AodSjYAww.
Please update us on any news you hear about Chocolate Babies.
Isaiah 58: 6-7
Is not this the kind of fasting I have chosen: to loose the chains of injustice and untie the cords of the yoke, to set the oppressed free and break every yoke?
Is it not to share your food with the hungry and to provide the poor wanderer with shelter —when you see the naked, to clothe them, and not to turn away from your own flesh and blood?